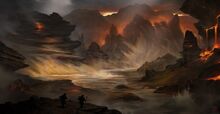 Warden of the Borderlands is a title bestowed upon the head of House Blackgard by the ruler of the Seven Kingdoms. The Warden commands the armies of the region of the Borderlands in the name of the Iron Throne for the defense of the entire realm. Thus the Warden is expected to lawfully command the whole bordermen army in the realm during a time of crisis. By custom, the title is functionally hereditary. The Warden is also the ruler of the Borderlands.
In some cases, a woman can be appointed as a Warden. In which case she would be called "Wardeness of the Borderlands"
Known Wardens
Ad blocker interference detected!
Wikia is a free-to-use site that makes money from advertising. We have a modified experience for viewers using ad blockers

Wikia is not accessible if you've made further modifications. Remove the custom ad blocker rule(s) and the page will load as expected.