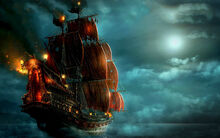 "When I saw Ryden's warship I nearly shit myself. That fucker was the biggest ship I saw."
―A veteran from the Greyjoy Rebellion
The
Red Lady
is the flagship of Lord
Ryden Spyre
. The ship proved vital during the
Raid on Lannisport
as the ship's massive strength obliterated the
Lannister
fleet. Although not the fastest ship on the
Raven Fleet
, what she lacks in speed she gives up in size. The ship was mostly used in wars.
Crew
Ad blocker interference detected!
Wikia is a free-to-use site that makes money from advertising. We have a modified experience for viewers using ad blockers

Wikia is not accessible if you've made further modifications. Remove the custom ad blocker rule(s) and the page will load as expected.