Harkon Dragen
is an unseen character in
Game of Thrones
.
He is deceased when the events of the series begin. He is not expected to appear in the series. Harkon Dragen was the
Lord of Helgen
and head of
House Dragen
.
Biography
Background
Harkon was once the Lord of Helgen and head of House Dragen, one of the North's noble houses. The Dragens are one of the most powerful and most influential families in the North. He is the father of Jaran Dragen, Garth Dragen and Ethan Snow, and grandfather of Lucius, Erik, Domeric, Mira and Merei.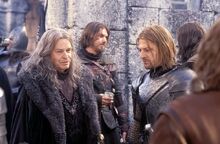 Harkon suddenly died from unknown causes. The maester announced that Harkon died from an old age. However, his son, Garth, later revealed that he had poisoned his father with the Tears of Lys, a deadly and costly poison that can simulate fever and almost never leaves a trace of a murder. Garth's motives of killing his father were unknown, as he was killed himself before he could explain anything properly.
Quotes
Jaran Dragen: "You give him no credit and yet he tries to do your will. He loves you, Father. "
Harkon Dragen: "Do not trouble me with Garth. I know his uses and they are few. "
— Harkon and Jaran Dragen
Reign
Ad blocker interference detected!
Wikia is a free-to-use site that makes money from advertising. We have a modified experience for viewers using ad blockers

Wikia is not accessible if you've made further modifications. Remove the custom ad blocker rule(s) and the page will load as expected.